Ninja air fryers have become one of the hottest UK kitchen gadgets in recent years, developing an intense following.  Everything from roast chicken to a full english breakfast now has its own air fryer recipe.  The proclaimed health benefits over shallow or deep frying, the minimal oil requirement, convenience, not to mention the lack of mess all contribute to the air fryer's "must have" status. 
This guide will run through current UK Ninja models, a quick guide to how to operate a Ninja air fryer, some recipes to try, and how to get your hands on one.  Before we kick off this guide, did you know we give away dozens of Ninja Air Fryers a year?  It's one of our most popular UK prize draws.  Head over here for your chance to win a Ninja!
Comparison of UK Ninja air fryer models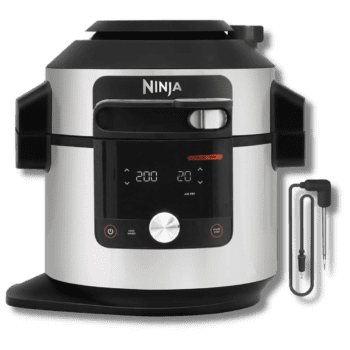 Ninja Foodi MAX 15-in-1 Multi-Cooker
15 Cooking Functions
7.5L Capacity
Digital cooking probe
Single Smartlid Design
£319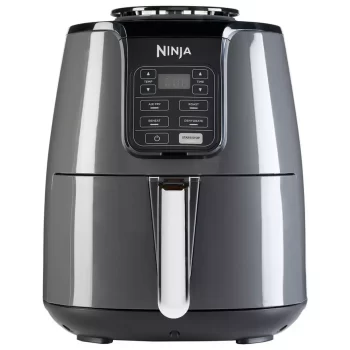 Ninja Air Fryer AF100UK
4 Cooking Functions

3.8L Capacity
£129
Ninja Air Fryer AF160UK
6 Cooking Functions

5.2L Capacity
£129.99
Ninja Foodi Dual Zone Air Fryer- AF300UK
6 Cooking Functions

7.6L Capacity
Two independent cooking zones
£199.99
Ninja Foodi MAX Dual Zone Air Fryer with Smart Cook System AF451UK
6 Cooking Functions

9.5L Capacity
Two independent cooking zones
Digital cooking probe
£269.99
Best UK Ninja air fryer model – our review of the Ninja Foodi MAX 15-in-1 Multi-Cooker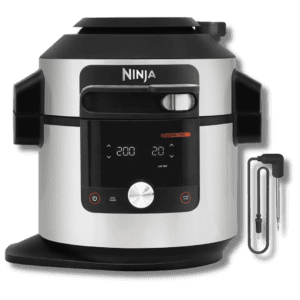 The Ninja Foodi MAX 15-in-1 Multi-Cooker comes top in our comparison of the major UK Ninja air fryer models.  It's the most expensive model, but as of 2023 it represents the apex of Ninja's product development with a few major changes over other models in the range (and over its competitors).
The most observable difference is the redesign, incorporating a single lid.  Common feedback on other models lament the dual lid system, and the additional space it takes up.  The "premium" exterior also speaks to Ninja's ambitions to offer kitchen products that aesthetically hold their own on a countertop alongside a Kitchenaid mixer and a Smeg fridge.  And it's a good job that it's good looking too, as at 11.7kg in weight and with some not insignificant girth, you are unlikely to want to move this in and out of a cupboard with any regularity.
Why so heavy?  Well, they've certainly packed it with gadgetry.  This is, at least on a technical level, arguably the most sophisticated air fryer on the market.  The Foodi Max 15-in-1 features a digital cooking probe allowing real time measurement and setting of temperatures for fish, poultry, vegetables, you have it.  There's a bonus cooking probe accessory neatly attached that can be inserted where needed.  It goes without saying that the Foodi Max's total complement of accessories is excessive to an almost comical extent.
The Foodi Max 15-in-1's greatest strength is its sheer versatility as not only an air fryer, but a steamer and pressure/slow cooker as well.  From tests, there really is no "weak" cooking mode and the Foodi Max really excels in both convection cooking and pressure cooking, with its myriad settings producing consistent results you'd expect of dedicated slow cookers, pressure cookers, steamers and so on.
It is pricey however, at £320 (don't forget, you can win one here potentially for free) it is by far the most expensive model, and indeed as air fryers go, also a good chunk above what you'd expect from the market.  Ninja is clearly not targeting the nuggets and chips crowd.  Is it worth it?  We think so, it's truly an "all in one" device, and its design is, at least in air fryer terms, sleek and premium feeling.
Beginners guide to using a Ninja air fryer
Our beginners guide below applies to Ninja air fryers of all types, as well as air fryers from other manufacturers.  Here's our guide to using an air fryer for the first time.
1/ Position your air fryer.  If it's to sit on a kitchen counter, make sure it's heat resistant, and you space away from the wall sufficiently to let air circulate behind the fryer.
2/ Wash any parts or accessories.
3/ Let the air fryer run for 10 minutes to burn off any chemicals (manufacturer dependent) similar to running an oven for the first time.  Some manufacturers recommend a dry run to burn off any chemicals before cooking food.  Check your manual to see if your manufacturer recommends this.  
4/ To preheat or not preheat?  Some guides advise preheating, others do not.  Our opinion is that an airfryer heats up and distributes heat so quickly that preheating is not really necessary unless there's a particular recipe that demands it.
5/ Don't pregrease the drawer.  It is made of non-stick coating, so there's no need to grease it for non-stick purposes.
6/ Introduce your ingredients.  Space them out and don't overcrowd the drawer, this will optimally fry your food.  Less is more.  You can always cook more after – the best thing about an airfryer is how quick it is!
7/ Do not overuse oil.  Again, less is more with oil, you are not shallow or deep frying any more.  Excess oil can build up in the drawer and clog things up, and generally just make things gunky.
8/ Move the basket around and give things a shake.  Whatever you are cooking, to ensure an even brown/fry on the outside, you will need to remove and shake the basket at intervals, with some recipes every few minutes.
9/ Temperature and timings from recipes are not gospel.  You'll need to test and check, as air fryer performance can vary, not to mention the amount of food and its placement in the basket.  Always be on hand to monitor how things are cooking.
10/ Remember safety.  The drawer, its contents, even the outside of the air fryer itself will be hot, and you should observe good safety practices as you would cooking via other means. 
Your free mini Ninja air fryer cookbook – easy recipes for classic UK dishes
Full english breakfast: how to cook perfect sausages, bacon, eggs and hashbrowns in a Ninja air fryer
Ingredients:
2 Sausages
2 Rashers of back or streaky bacon
2 Large tomatoes
2 Slices of black pudding
2 Hashbrowns
1/4 Can of baked beans
2 Large Eggs
1 Tablespoon whole milk
1 Teaspoon butter
Salt and pepper
The key to a full english in an air fryer is the eggs.  Needless to say you don't want to crack a few eggs directly in the draw, else you'll be left with both an upsetting image when cooked, and a tedious cleaning job.  So, scrambled eggs in a ramekin is the order of the day.
First, crack your eggs into the ramekin.  Depending on how silky and indulgent you like your eggs, add butter and milk to taste.  Your milk content will determine how runny or thick your scramble will be.  Add salt and pepper to taste.  Put the ramekin in the air fryer draw and add all your other ingredients except for the beans, spacing them out as evenly as possible.  Set for 10 minutes at 180 celsius or 360 fahrenheit.
After 5 minutes, pull out the draw, gently stir the eggs with a fork to break up the mixture and ensure an even texture.  If you are using less milk you may wish to do this more often.  At this point you may wish to add a dash of Lea and Perrins Worcestershire sauce and stir.  Ensure the other items are turned or shuffled in the draw to ensure consistent browning.
After 10 minutes, check that your eggs are scrambled, remove the egg ramekin, and insert a fresh ramekin with your beans.  Again, turn or shuffle the other items in the draw if needed.  Set for a further 5 minutes at the same temperature.
Check your food is fully cooked throughout and enjoy!
How to cook perfect roast potatoes in a Ninja air fryer
Ingredients:
1kg Potatoes
1 Tablespoon olive oil
Sea salt and black pepper
Optional: Garlic powder
Optional: Flour
There is nothing more British than roast potatoes.  No single meal element has yet come close, and an air fryer makes both easy and quick work of roasties.
Cut your potatoes into evenly sized pieces.  Their size will determine how quickly they cook. Parboil your potatoes for 5 minutes in generously salted water and drain well.
Optional: toss the parboiled potatoes in flour and garlic powder.  This will increase the crispiness of the potatoes in the air fryer.  This works better with smaller cut potato pieces.
Put the potatoes into the drawer of the air fryer.  Add the olive oil and shake well to ensure good coverage of the potatoes. Set the fryer to cook at 190 celsius for 30 minutes.  If your potatoes are larger, you may require extra cooking time.  Check that the potatoes are cooked through and are brown on the outside and light and fluffy on the inside.  Generously season with salt and pepper.
How to cook frozen oven chips in a Ninja air fryer
Ingredients:
1kg McCain (or other branded) frozen oven chips
Sunflower or olive oil spray
Sea salt and black pepper
Optional: Dried Rosemary
What would the UK do without oven chips?  It's a serious question.  Productivity, happiness, parental harmony all would suffer without the humble frozen chip.
And, in the next stage of evolution for this modest matchstick of icy potato comes the air fryer.  No more staring at the oven door.  Now you can turbo charge the dopamine rush of near-instant chips.
If you've the need for speed, here's the recipe.
Place the chips evenly across the drawer and set for 12 minutes at 180 celsius or 360 fahrenheit.
Shake the drawer to move the chips, spray with your choice of oil and optionally add some dried rosemary to the chips.
Set for a further 4 minutes at 200 celsius or 400 fahrenheit to brown.
Ensure chips are cooked throughout, are brown on the outside and light and fluffy in the middle.  Season generously.
Deals, discounts and where to buy a Ninja air fryer in the UK
We may earn a small sales commission from affiliate links in this section of the article.
There are often deals and discounts on Ninja air fryers with UK retailers, though there are other factors to take into account when buying, including warranties and return policies from the retailer.  Here are some options for 2023:
Ninja
Ninja sells its products directly.  There are often discounts (commensurate with other retailers), it offers free next day delivery, 7 days a week (which could ordinarily cost upwards of £10), they offer a 30 day return window, and of course their manufacturer's guarantee.  Customer support is generally considered to be solid if buying direct, so this is a good option.
Amazon
Amazon offers the full range as well, often with healthy discounts against RRP (£269 against £320 RRP).  Amazon has a very healthy returns policy, Prime delivery and so on.  Often you can return and rebuy if prices have precipitously dropped after a recent purchase, though be careful if you've been blasting roast potatoes in it prior.
AO.com
AO also offers a typical discount to Amazon (£269 against £320 RRP) and has very solid price matching.  They also offer next day delivery, 7 days a week, but this is generally a paid upgrade.
Currys
Currys generally carries a discount on RRP less frequently (usually a meaningless discount of £1 at £319) but they do price match (including the likes of Amazon) and you have the advantage of nationwide stores to pick up from.
John Lewis
John Lewis also tends to discount by £1 to £319, but you of course get the 2 year John Lewis retail guarantee which is worth its weight in gold.  Alas they no longer price match as of 2022 – "never knowingly undersold" is no longer their motto.
Deals and discounts
It's worth keeping an eye or saving a search for "Ninja air fryer" on UK deals and discount communities like Hot UK Deals as vouchers and discounts do crop up semi-regularly.  Black Friday and Cyber Monday sales events often feature Ninja products (both Ninja direct and retailers) but may be some way to wait, and it's rare for new or top of the line air fryers to enjoy any discounts beyond what you'd find the rest of the year.  Want one for next to nothing?  Read on…
UK competition to win a Ninja air fryer
Did we mention that we give away dozens of top model Ninja air fryers a year?  I think we did, but if you've read this far and are in the UK then surely you owe it to yourself to try and win one?  The Kitchen Draw is a raffle site dedicated to the ultimate kitchenware and culinary prizes.  We've got low ticket numbers and a better chance of winning each raffle, a free entry option, and we plant trees with every ticket order!  Take a look at our current raffles.  You never know, you could be the lucky recipient of a Ninja Foodi Max in a matter of weeks.